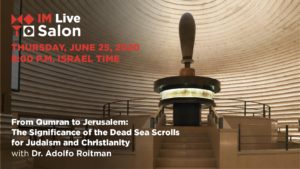 LIVE SALON aus dem ISRAEL MUSEUM
The Israel Museum is delighted to invite you to a "Live SALON" session with
Dr. Adolfo Roitman, Lizbeth and George Krupp Curator of the
Dead Sea Scrolls and Head of the Shrine of the Book.
Since their discovery in 1947, the 2,000-year-old Dead Sea Scrolls, the world's oldest biblical manuscripts, have revolutionized our understanding of the literature, thought, and religion of ancient Israel. Adolfo will describe the fascinating story behind the discovery of these ancient Hebrew manuscripts and explore their transformative influence on the study of Judaism and Christianity in our time.
THURSDAY, JUNE 25, 2020, 8:00 p.m. Israel Time.
Invite your friends and join this session for another exciting glimpse into the world of the Israel Museum! Please join via the link:
http://us02web.zoom.us/j/81091659664?pwd=TUFWNUxmWEtGanNwWGdQMGpPYTV2dz09